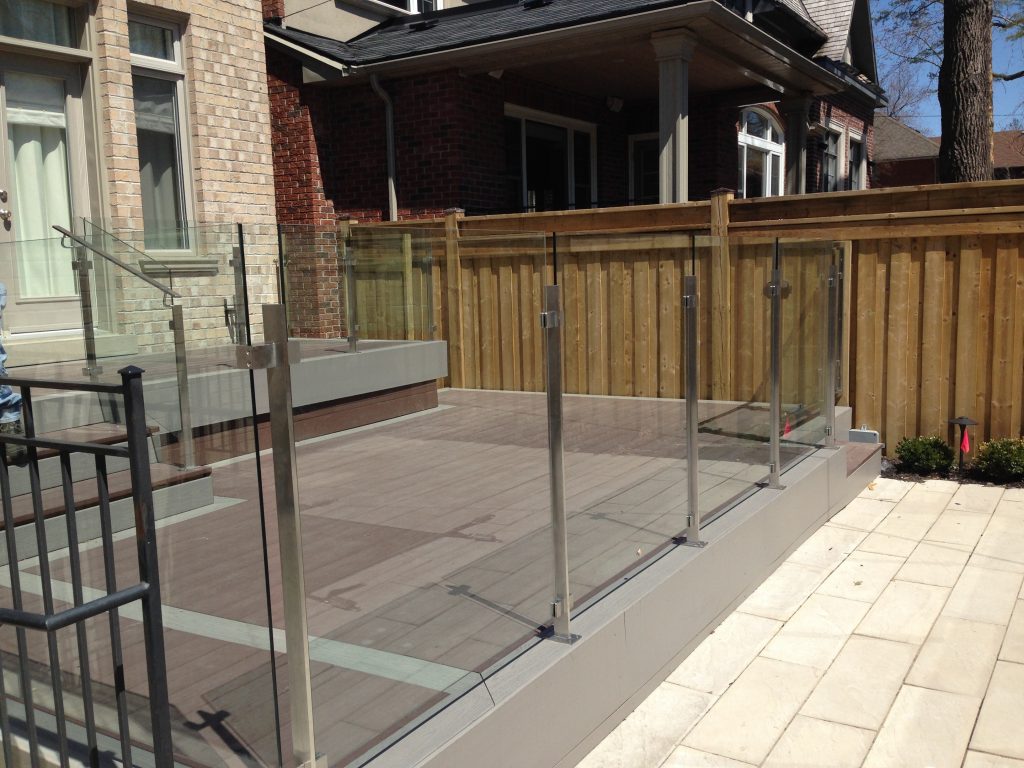 A deck or patio is a great way to take advantage of the beautiful Toronto outdoors. In the summer, a deck is the perfect place to host a barbecue. However, the fun doesn't end there. As fall rolls around, a patio provides the ideal place for gathering around a fire pit in the evening. What we can't forget is that all kinds of outdoor fun on a deck or patio come with some safety requirements. Deck and patio railings will improve safety and look amazing.
Deck Railings
Most decks have a fair amount of drop space at the end of them. Even if the surface of the deck is only a foot from the ground, one wrong step could lead to injury. This is why deck railings are so important. The good news is, Pro Weld has deck railings for everyone. Two of our best choices for deck railings in Toronto are:
Aluminum, for Easy Installation
If you want the most simple solution for your safety needs, Innovative Aluminum is a great choice. While most of our railings at Pro Weld are handcrafted, Innovative Aluminum is prefabricated and sold in pieces. This makes them easy to order and install by yourself. Plus, there's less of a wait time, since we're not crafting custom railing solutions for you.
Innovative Aluminum comes with the upside of being easily replaceable as well. If you're looking for simple, utilitarian railings, these can't be beaten. They do their job well, are easy to maintain, and individual parts can be replaced with ease.
Glass, for Superior Appearance
Utility is important, but most of our clients opt for something a bit more attractive. For that reason, the next best choice for deck railings is glass. Glass railings offer a beautiful layer of safety at the perimeter of your deck.
Not only do they look nice, so does the world around you. Without metal or wooden balusters getting in the way, you can fully enjoy the scenery of the surrounding area. Enjoy the sunset from your deck chair without feeling caged in. Sleek, glass deck railings are a favorite.
Patio Railings
Because patios are typically set into the ground, patio railings aren't as common as deck railings. However, there are instances when they're more than appropriate. If your patio comes to a stop at the top of a hill or drop-off, railings are a must.
Glass, for Visibility
For many of the same reasons we recommend glass railings for decks, we also recommend them as patio railings. They provide a high level of visibility, making the surrounding area easy to enjoy even while sitting down. You won't need to stand right behind the railings to enjoy the horizon or to watch nature. Plus, our sleek, glass railings look stunning when paired with patio brick or flagstone.
Stainless Steel, for Simplicity
Our second choice for patio railings in Toronto is our stainless steel, horizontal railings. Without the numerous, vertical balusters of traditional railings, you'll be able to see through them better. However, unlike glass railings, you won't need to fuss with wiping them down all the time. Additionally, these sturdy, metal railings are great for households with children who are likely to climb over them as they get older. Safety isn't just about holding you back, it's also about withstanding realistic wear and tear.