Toronto's Leading
Railing Company.
Glass Railings, Stainless Steel,
Wrought Iron, Aluminium & More.

Indoor Railings Design, Manufacturing, and Installation by Pro Weld. Railings Toronto is a leading manufacturer and distributor of wrought iron, cast iron …

Pro Weld builds-to-print custom prototypes of different machines. We can manufacture and engineer almost any product you may require. We specialize …

Wrought Iron Railings are a stunning choice What began as a small welding shop in Concord, Ontario in 1990 has blossomed into the premier specialty …
Voted #1 Railing Company in Toronto!

Looking For Stainless Steel Railings Experts? Pro Weld is at Your Service! Pro Weld is a leading manufacturer and distributor of wrought iron, cast …

Many Glass Railings Variations & Styles at Pro Weld, Glass Railing Toronto Manufacturer Pro Weld is a leading manufacturer and distributor of …
Delivered right on time as promised. Clean job and even followed up with me two weeks after to make sure I'm happy with the results.
When I ordered my custom railing I knew I was ordering something unique and challenging to produce. Now that the final product is installed in my house I can't believe how beautiful the final result is. They truly crated a piece of art that is now the centrepiece of my home. They were easy to work with and delivered exactly what they promised.
This company is simply fantastic! I called on a Wednesday and got a very fair estimate right on the phone. They sent an experienced tradesman to my home on Monday who measured it all up. The next day he fabricated the complicated stainless handrail and installed it one day later. The tradesmen were very careful and clean and the results were incredible. I was amazed how fast and efficient they were and I got the results I wanted - all at a price far below what others had quoted. I recommend them 100%.
I recently purchased glass railings from pro weld for my home in rosedale. I was extremely impressed by their professionalism and quality of work. I highly recommend them to anyone in the market for railings
Tal and his highly experienced team did a professional job installing our glass windscreen. A high quality product along with an excellent, precise installation!!
Great service! Very much satisfied with the work performed by Tal and the company. Very clean and meticulously done installation. I would highly recommend the company to anyone.
Featured Glass, Stainless and Iron Railing Projects
WHAT TYPES OF RAILINGS ARE THERE?
There are many types of railings. Pro Weld specializes in 5 main types: wrought and cast iron, aluminum, stainless steel, and glass railings. Each of these railings comes with its own benefits and can be utilized most effectively in different areas.
Professional Railings in Toronto
Stainless steel and aluminum railings make really sleek additions to professional settings. On the other hand, if your professional setting is looking for something elegant and contemporary, glass railings may be better. Both of these railing types look beautiful, are effective, and are business affordable.
When buying for the home, however, you may have different needs. That's where our iron railings come in. These railings are great for homeowners because they are customizable. Ordering a custom design is easy with Pro Weld. We can custom make pretty much any design you like. If you're looking for a more contemporary railings design, then glass railings and stainless steel are the way to go.
Last, but not least, we have barrier railings. Every railing is a barrier to some degree. However, you can take it one step further when buying for a pool. Pool railings are a huge safety asset for families with small children, but there are more reasons than that to invest. Buying tall, glass railings for the perimeter of the pool means you can have a clean divide between swimming and sunbathing. Everyone gets to have their fun without impeding on the other.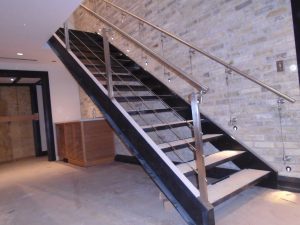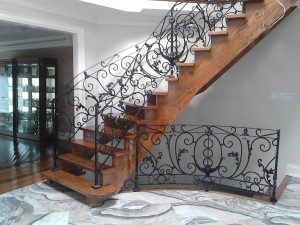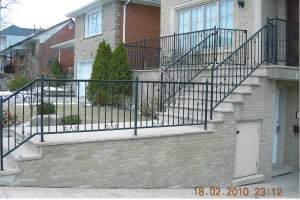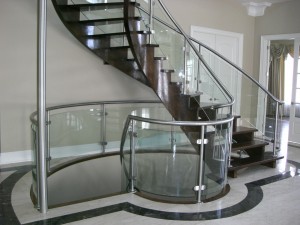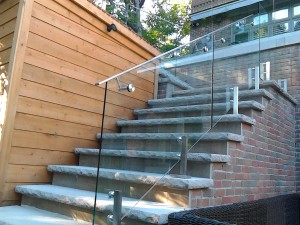 HOW MUCH DO RAILINGS COST?
The cost of railings is highly dependent on what you're buying. Different railing types come with their own challenges. Due to the differences in terms of creation, quantity, and installment, they are all priced differently.
Wrought iron railings can have the highest price range, by linear foot. The cost depends a lot on the design of the wrought iron railing and the amount of metal used. These railings can be a lot of work to bring to life, from molten metal to a beautiful piece of functional art. Each part is hand crafted with care, like a metal sculpture for your home. Wrought iron railings for the outdoors must also be coated to keep them safe from rain damage and rust.
Stainless steel railings offer simplicity and clean look. Furthermore, they require less maintenance than wrought iron railings. Their more linear design and affordability make them great investments for small businesses. Their sleek appearance and effective functionality make them a great investment for large businesses. No matter what kind of business you have, there is good reason to consider stainless steel railings. However, stainless steel is also a great choice for homes. Their affordability and appearance make them ideal for modern, minimalist or industrial interiors.
Last, but not least, we have glass railings. These railings don't have the expense of craftsmanship to the same degree that wrought iron does. However, the material isn't cheap, and the installation can be touchy. The result, however, is worth the price. The smooth, transparent panels of glass allow maximum light efficiency and visibility within any home or business. Glass railings are one railing type that provides elegance without the need for a unique design.
Need an advice about which railing options are best for you?
The type of railing you choose for your interior is largely up to personal preference. However, the reason for choosing a railing type is different for indoors than for outdoors. Here are some of the benefits different railing types have when utilized indoors.
Stairway Railing Integration
Choosing metal or glass railings for your interior is a great choice, visually. They often compliment the appearance of the carpeted or wooden stairways they border. Adding a contemporary look to your stairway is a great way to improve your interior. Floating stairways are also a great way to improve interior visibility and open concepts, as they don't block light like solid wood.
One challenge that is typically more relevant to indoor settings is light efficiency. Trying to keep each part of the house illuminated without adding a new fixture around every corner can be difficult. This is especially true for areas like the basement, or a loft, which both can lack in windows.
Glass railings are great for maximizing light efficiency. Glass can actually spread light further than it would have gone without interruption. This makes glass railings great for keeping a space lit up. The clear panes also will not interrupt light sources with shadows the way other railings might.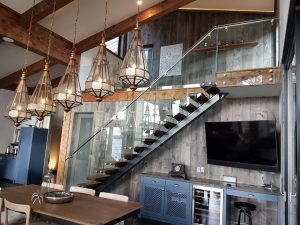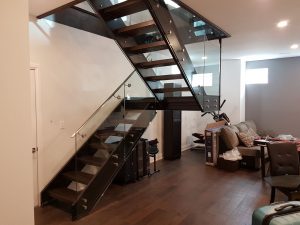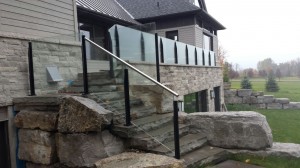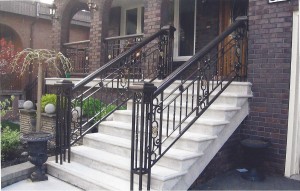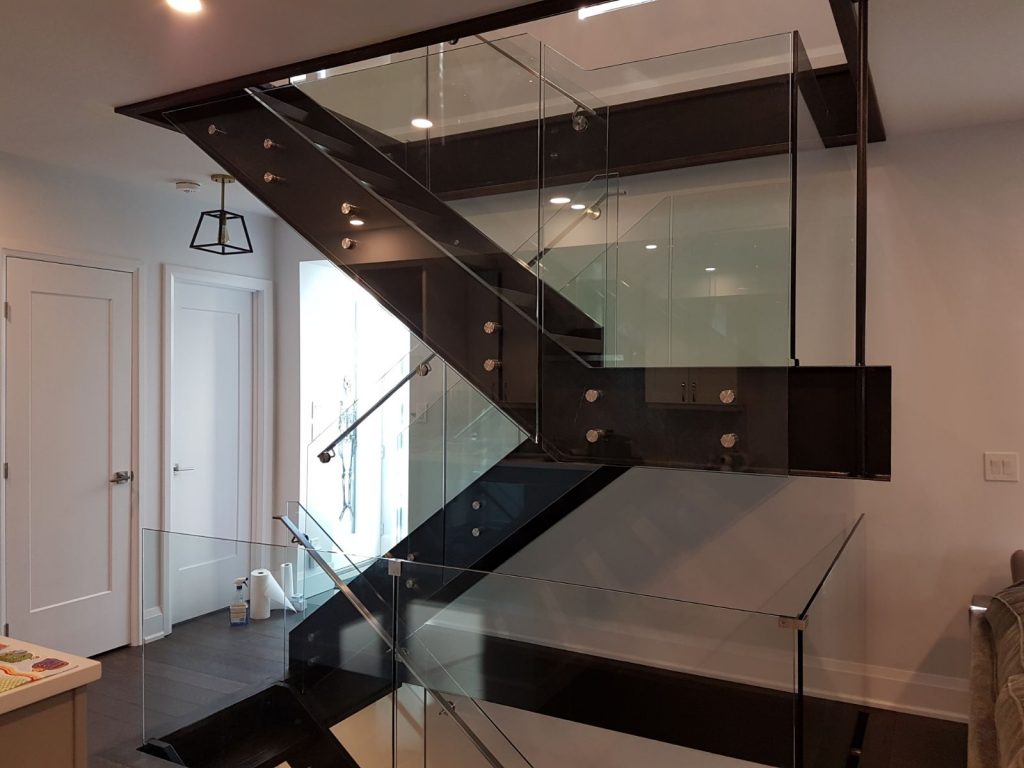 While most railing materials are well-suited for building exteriors, there's more to consider than appearance when deciding. Any railing type with close bars or solid panes can be used for basic safety, such as what you need surrounding a porch or balcony. However, because exterior railings have some needs that are unique from their interior counterparts, there's more to consider. Here are some ways that different railing types can beat others in meeting your exterior needs.
The first difference is height. While interior railings are primarily for safety and appearance, outdoor railings do even more. There is the matter of security, which is not typically necessary indoors.
When it comes to security, iron railings are the best choice, hands down. Their height can be over doubled, making fantastic gates and fences for surrounding properties. The strength of iron is perfect for keeping out trespassers and preventing theft and property damage.
When it comes to barriers, like what you need around your pool, glass railings are the best option. Glass railings are beautiful. They provide visibility, making it easy to monitor children from the other side. They protect observing parents from getting splashed with cold water. And, last but not least, they keep children from accessing the pool when there are no adults around – a huge security must-have.
One of the most common uses for exterior railings is providing safety for stairways. While floor-to-floor stairway railings are a huge safety must-have, even shorter stairways can benefit. 5 steps leading up to a building entrance isn't much for most of us. However, for public businesses, providing something to hold on to is necessary for elderly and disabled patrons. Choosing an affordable railing type, like aluminum or stainless steel, provides exactly that, without the extra cost and frills.
SO WHICH RAILINGS ARE RIGHT FOR ME?
Choosing the railings that suit your needs can be tricky. If you like the appearance of all railing types for different reasons, relying on their unique qualities may be the answer. Ask yourself what you need your railing for. Is it for the interior or exterior? Are you buying to outfit a business or a home? How long do you need your railing coverage to be? What's within your budget?
If you're coming up short on which design is best for you and your needs, it might be time to call and ask for some advice. While you can glean most of what you need to know from our website, there's nothing better than
personalized help. Getting a price quote, a time estimate, and learning the limits of how far we can go with customization will help a lot in choosing. So, let us know you need some help, and we can get you all of the information you need to make an informed choice for your order.