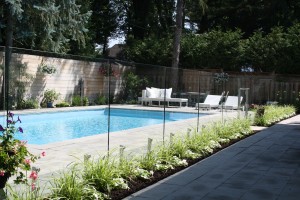 Lately Glass Pool Railings & Fencing have become increasingly popular. When choosing a security method for your pool, nothing is better than a glass pool fence and railing as it is considered a great way to keep your pool safe. Glass fencing & railings serve the purpose of being a shield for your pool, at the same time as adding a touch of elegance to the way it is presented. If you're interested in installing the best, affordable and durable fencing for your pool, Glass Pool Railings & Fencing is the best option. These fences are manufactured from glass & are put up around the swimming pool to avoid accidents. Today many pool owners around the world use this fencing technique because of its affordability and reliability.
Some advantages of Glass Pool Railings & Fencing include:
Glass Pool Railings & Fencing are a creative way of providing a clear view around the pool.
Glass Pool Railings & Fencing adds to the appearance of your home along with the poolside area giving a elegant and upscale look to your premises.
Durability – this glass can last for decades, with the proper care and maintenance.
Glass Pool Railings & Fencing is not prone to decaying and rusting like steel does and can resist even salt water.
Glass can adapt wet conditions & does not need any routine maintenance or repairing.
Glass railings are strong, affordable, and not easily damaged as compared to iron, steel or wood.
Glass fences are generally much taller to prevent children from entering the pool on their own.
The glass used in this fencing, are not affected by wind, rainfall, or debris. And with proper maintenance such as cleaning with a dry and fresh can last for an extremely lond period of time.
Glass Pool Railings & Fencing is considered one of the best options for keeping the safety of your swimming pool. The process of fencing involves things like, deciding the proper height of fencing, making sure you use quality glass, selecting a design, opting for self-closing & auto locking systems, and lastly the installation process.
Contact Proweld for Glass railings for pools in the Toronto Area today!