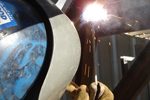 Mobile welding is a highly sought after service that brings all the elements traditional welding has to offer to your doorstep. This relatively modern service builds on the time-honoured principle of "the customer comes first." Mobile welding companies acknowledge that most working professionals these days simply do not have the time to seek out services the way people used to, so much like other mobile services, mobile welding caters to this need for faster, more efficient service.
Pro Weld has been offering its fabrication and mobile welding services to the Greater Toronto Area since 1990. That represents over twenty years of hard work, knowledge, and experience gained in the industry. Our mobile welders offer a complete range of services, and are fully equipped to cater to service requests and projects in residential, commercial, or industrial areas.
Mobile Welding: The Simple, Convenient Choice
What are some of the benefits of hiring a mobile welder? Well, to start with, here is a question you should ask yourself: Do you already have a welder that you can rely upon? If you do, ask yourself if you could save some time and money by trying out a mobile welding service. And if you don't, why not give a mobile welder a shot? Read on for some of the reasons why we provide and support this particular type of service. Mobile knowledge and experience + innovation.
Mobile welding is exactly what it sounds like: a welding service, but one that is mobile rather than based in a specific location. Our mobile welders bring the same amount of knowledge and experience with them as any regular welders would, and additionally bring many innovative skills and the latest technology to the job.
A complete, diverse range of services. Mobile welding services typically include Mig, Tig, and Arc welding, fabrication, repairs to fences, railings, grilles, and gates, repairs to cars, wheel repairs, and heavy equipment repairs. In addition, Pro Weld's mobile welding service also tackles projects in the construction, aero, and marine industries. We are equipped to work with all kinds of metal; most commonly we handle projects involving stainless steel, mild steel, cast iron, and aluminum.
Service at your doorstep. Mobile welders basically offer you the best of both worlds – all the skills and expertise you need and more, right where you need it. There will be no need for you to go to a welder, instead they will gladly come to your home or business as required. After all, it is part of the service!
Tailored to meet your needs. Every single thing about our mobile welding service is tailored to meet the customer's needs – your needs. Mobile welders are trained to be versatile, precise, and efficient at what they do and how they address problems and develop solutions. There is no problem too big or small for our mobile welders to handle; plus, everything will be taken care of with your comfort and convenience kept as a top priority. Our goal is always to provide expert service that meets our customer's exact requirements.
A job done immediately; no waiting for weeks! When you decide to rely upon a mobile welding service, you will never need to worry about leaving something at the shop to get fixed, only to have to pick it up a few days or even a few weeks later (not to mention delays and unmet deadlines). The difference is obvious: if you request the services of a mobile welder, the job is going to get done on the spot. You can easily reduce the amount of stress and inconvenience that a job or project may cause, by opting to use a mobile welder's services.
Avoid hidden costs. Do not get caught by surprise with hidden costs at the end of a job. If you use a mobile welder you can easily prevent this by asking for a quotation on the phone, before you commit to paying for a service. When the welder arrives you can even request a written quotation. This way of going about things will save you time and money; it may be a matter of a few phone calls, as compared to driving around town to several different locations in order to compare quotes.
Flexible schedules, greater convenience. Mobile welders often have more flexible schedules, which, again, will probably end up helping you save time. You will be able to schedule an appointment at your convenience, and save on the time it would take for you to go there – instead the service will come to you.
 Custom welding and fabrication work on-site. Since our Pro Weld mobile welders provide a complete range of services, this also means that custom fabrication and welding work can be done on-site. Would you like to discuss a design idea for your new railings, but do not have the time to visit our workshop? Not to worry, the same job can be planned and accomplished on location.
Try Pro Weld Today
Ultimately, by hiring a mobile welding service like Pro Weld you will save yourself a significant amount of time and money, while getting the very same quality service and products as you would if you were to use a traditional welder. You will simply make your life so much easier, especially once you have found a mobile welder that you can rely on at any time.
Pro Weld is a licensed, certified and insured mobile welder. The quality of our custom welding, fabrication, and steelwork reflects the decades of experience that we have in the industry. We offer competitive rates, and top quality products and service. We excel at meeting our customers' immediate needs, and can also be relied on for our ongoing customer support. No matter if the job is large or small, Pro Weld will handle it, and handle it well.
We are a certified member of the Canadian Welding Bureau, and we guarantee you that our work meets all the highest professional standards possible. If you need a mobile welder, do not hesitate to give us a call today.
 Looking for a mobile welder in Toronto? Call (905)-669-8633