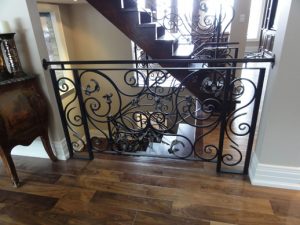 Wrought iron railings are increasingly popular thanks to the many benefits they bring. Although some people have been hesitant to embrace wrought iron railings, Toronto is quickly catching on the fact that they have many advantages and, importantly, have a positive effect on a property's value. Thanks to the strength and elegance of modern wrought iron, these railings can make excellent additions to all kinds of landscaping projects around the house.
When It Comes to Wrought Iron Railings, Toronto Recognizes their Value
Take a look around the nicer neighbourhoods of the city and you'll see more and more examples of wrought iron being used in both traditional and imaginative ways to complement the existing structure and landscape. These railings are not there simply for security or beauty, but they provide both. In fact, their benefits are so important that many realtors are advising that, by not having wrought iron railings, Toronto residents could actually be negatively affecting the value of their property. Let's look at why this is:
They Provide Transparent Security – Traditionally, the main purpose of railings was to provide security. They were thought of as superior to walls and fences, as they didn't obscure or hide away your property, and they didn't block your view. This still applies today – railings are better at deterring intruders, as they are difficult to climb over. Yet, you can still talk to your neighbours through the railings and show off your beautiful lawn, plants or flowers.
They Add Elegance – Without wrought iron railings, Toronto's yards and gardens would lack the same level of class. Think of the damage that can be done to a neighbourhood's ambience when all of the properties are walled or fenced off. Iron railings have the opposite effect – they keep your property looking open, maintaining a neighbourly openness. Wrought iron railings even improve the impression given of certain properties, adding suggestions of tradition and family to what otherwise might be boring, characterless buildings.
They Are Strong – Unlike fences and some walls, iron railings are very difficult to damage or knock down. Even the strongest storms don't trouble them.
They Are Long-lasting – Again, unlike fences, iron railings are known to stand the test of time. Put them up today and they'll still be strong when your great-grandchildren are getting old.
They Increase the Value of Your Property – Numerous studies have shown that landscaping boundary features such as walls, fences and railings increase the value of the properties they are built on. Railings are usually the best choice for a property bordering a street or road, for the reasons of the openness and security mentioned earlier. Fences and walls can be damaged easily – they can start to look worn very quickly compared to railings, and this actually reverses the positive effect they initially had. As railings remain elegant and strong for a very long time, they are also the safer option.
If your property doesn't currently have iron railings, take the time to visualize how much better it would look with them. Their numerous benefits make them an obvious choice for your next home improvement project.