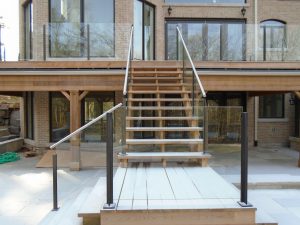 For the most part people take railings for granted; until they see one that's juuust a bit different from anything they've seen before. Then their ears prick up, their eyes widen a bit and their imagination is engaged. An interesting railing can really bring an interior to life or elevate an ordinary deck to something extraordinary. In this post we're going to look at some railing trends that we've sniffed out and that we believe will influence homeowner tastes in the coming year.
Where Railings in Toronto are Headed in the New Year
Over the past 20 years or so just about every aspect of home design has been rethought. Railings have benefitted from this reappraisal of interior design and leading-edge ideas about the role of the railing have led to some astonishing results. Here are 5 railing trends we see playing out in 2017.
Dazzling wrought iron work: Say "wrought iron" to most people and they think of colonial mansions or fencing around civic green spaces. But wrought iron has made significant inroads on the domestic railing front in recent years and we don't see that trend slowing down in 2017. Today wrought iron railings in Toronto bear little resemblance to their colonial forebears with some walking the razor's edge between functional object and art object.
Stainless steel: Stainless steel as a railing material has been popular in commercial settings for many years but we believe it's due for a breakout residential year in 2017. Postmodern design rules the architectural landscape today and at its heart is the notion of appropriation. Stainless steel railings in a home are a perfect expression of that ethos.
Wire railings: Wire railings, sometimes called "cable railings" manage to exude both strength and fragility at the same time and they'll be big in 2017. They're ideal for contemporary settings but also work well strung between wooden balustrades on the deck. "Wire" railings are not always wire either. Sometimes they're thin tubes of stainless or some other metal.
Those other metals: Brass, aluminum, bronze and even copper are finding their way into the design of railings in Toronto in 2017. The look will be light and airy and provide subtle 'highlights' to many interior and exterior decors as well as take on the role of motif that informs the larger design scheme.
The return of wood: While it's unlikely wood will reclaim the market share it enjoyed 50 years ago we see more people taking an interest in wooden handrails than in previous years. Perhaps it's a matter of "everything old is new again" or maybe it's just that homeowners are pining for a material that brings them back into closer contact with the natural world.
Railings in Toronto have emerged from the periphery of interior design to assume a central role in both new home design as well as renovations and remodels of every type. If you'd like to discuss these or other railing designs and concepts, or would like a quote for your upcoming project give us a call on (905) 669-8633.