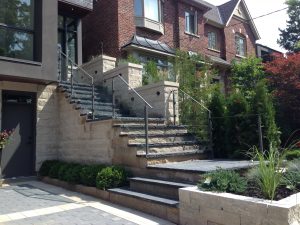 Perhaps it's not something that comes up right away when you think about ways to enhance the value of your home but maybe it should. We're talking about installing metal railings at various locations around the property. Metal handrails – whether steel, aluminum or wrought iron – go a long way toward enhancing the aesthetics of your home both inside and out and also play an important role in making your home safer for everyone. Below we're going to look at just some or the reasons that installing metal rails, balustrades, banisters and fencing in and around the home is an idea whose time has come in 2018.
Why it Makes Sense to Install Metal Railings in Your Home
Metal handrails whether on the main staircase or around the deck make a lot of sense from both aesthetic and practical perspectives. Below we'll look at a few of the reasons you should consider metal handrails for your home.
Safety – One of the biggest reasons to consider metal over wood or vinyl is safety. When properly installed metal handrails will be able to absorb a heavier load than wood, vinyl or glass, which is important if there are kids in the house or even if you entertain a lot. If your child or guest accidently falls against a wooden banister it may or may not be able to stop them from crashing through. With wrought iron or steel everyone will emerge safe and sound.
Beauty – Metal has been used in and around the home for centuries. Wrought iron fences built 200 years ago can still be seen in some of the older neighbourhoods of North America. They've never been replaced because they have a timeless appeal that is just as strong today as it was when they were installed and that is not going to change any time soon. So if you want to enhance the curb appeal of your home, consider metal fencing or handrails.
Low maintenance durability – Metal, regardless of what kind, is not going to attract termites or other pests and you won't have to take any extraordinary steps to protect it from the elements, even if it's outside. In fact there's a good chance your metal handrails will outlast the house itself and will be used by some enterprising builder in the future to adorn their new abode. All you really need to do is keep them clean and keep an eye out for corrosion (if they're outdoors).
Metal railings are one of the most cost-effective enhancements you can make to your home this year. But they're more than just a bottom line investment. They're also an investment in the safety of your family and friends, the overall look and experience of the home (including the property around the house) and they never need any sort of special attention to maintain their timeless good looks and practical effectiveness. Talk to the experts at Pro Weld about new metal handrails for your home.