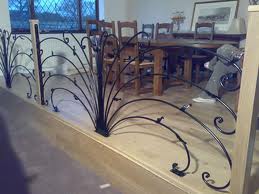 You may hear the terms cast iron and wrought iron thrown around a lot when you're looking at custom welding work. You may think that the two terms are interchangeable, but they re actually quite different. There are numerous differences between cast and wrought iron, but the main difference is how the product is prepared. We've broken down all of the differences for you, so you can be better informed in case there comes a time when you need some welding work done!
Cast Iron
Cast iron is pretty much exactly what it sounds like- something made from a cast, or mold. This process begins with iron being melted down, and then poured into a specific mold, depending on what is being made. Cast iron isn't actually really iron. It is made up of iron alloys, or often gray iron. There are typically traces of other elements, like carbon, manganese, and phosphorus as well.
In order to actually make a cast iron product, iron ore is smelted and mixed with scrap metals. The mixture is then poured into a mold of the desired shape. The product is extremely hard, and tougher than wrought iron, or steel. However, since cast iron is so tough, it can't be worked with. This means that the product that comes out of the mold is what it will be forever, unle
ss it breaks. Actually, this is one of the few drawbacks of cast iron. Although it is extremely dense, th
e addition of multiple elements with different melting and solidifying temperatures means that the product is solidified while its components are in different phases, creating tension points within the cast. If enough pressure is added, the piece will fracture rather than bend. However, you would have to add a significant amount of pressure to achieve this.
Wrought Iron
Wrought iron is very different than cast iron. Rather than a liquid being p
oured into a mold, the actual metal is "wrought" or worked on to create the desired shape. Unlike cast iron, wrought iron is composed of primarily iron, with about one or two percent of impurities like phosphorous, sulfur, or aluminum oxides.
Although it is still extremely strong, wrought iron is much more malleable than cast iron. This means that the iron used for one project can be reheated and used over and over again to adapt to your needs. Actually, the more a piece of wrought iron is reheated and worked on, the stronger it becomes. Since wrought iron is more malleable, and less heterogeneous than cast iron, it lasts longer in most cases. A piece of wrought iron would have to be exposed to a serious amount of pressure, or extremely high temperatures in order to break or become damaged.
Although both cast and wrought iron have their advantages, they're not often used in present day. They are typically only worked with by artisans or extremely skilled welders. Both are great for making unique, beautiful pieces!