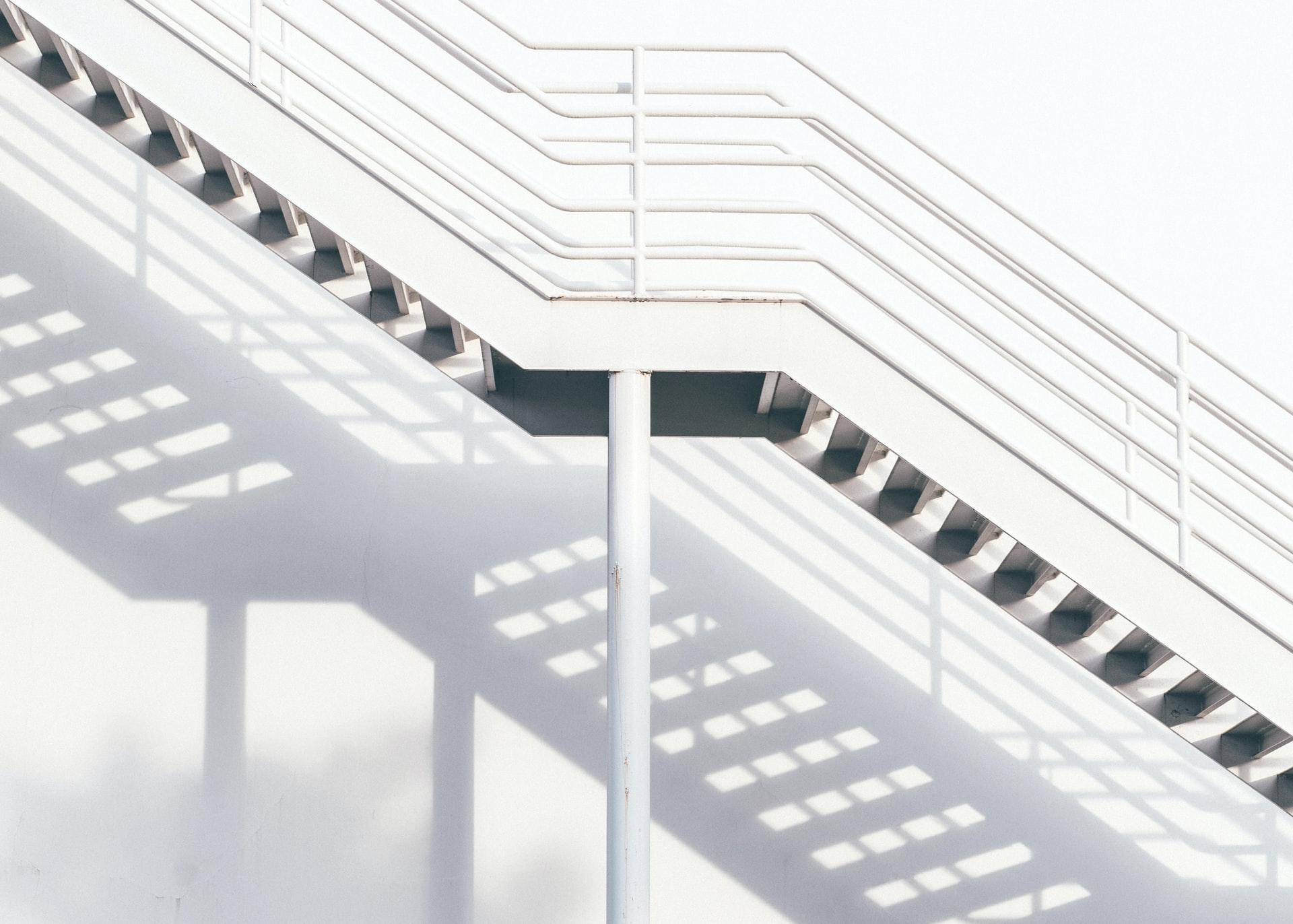 Modern businesses need modern design solutions, and that's why metal staircases are a wonderful choice. Pro Weld's metal staircases come in a wide array of different styles, perfect for any professional interior. Check out these designs and perks to using metal staircases for your business.
Create Visibility
Across the board, Pro Weld's metal staircases create wonderful visibility in your business. That's because these are what we call floating staircases. Unlike cement or wooden staircases, the steps are connected to an open frame, instead of a boxy one. Having those openings between each step makes a room feel bigger and more opening. Plus, it provides more practical visibility.
Sleek Glass Railings
If you're looking for a style that's going to flatter a modern, contemporary, or industrial interior design, add glass. That is, you'll be interested in our metal staircases that have glass railings on them. Pictured is a great example of how these railings can make a staircase work with your interior design, rather than apart from it.
Hardy Metal Railings
While glass railings look great in some settings, others just don't need them. Glass is a statement piece, but iron is made to last and needs little upkeep. If you need railings that are more practical than beautiful, a metal staircase with railings to match is just what you need.
These are great for outdoors or indoors. Whether you plan to put them into a hidden, back stairwell, or front and center, they won't disappoint.
Spine Design
Want a staircase that stands apart from the others? One spine-like style makes great metal staircases for your business. Instead of a framework that follows the sides of the steps, this design has a central support instead. This support runs up the back, middle of the steps.
This design is not only minimalist and great for room visibility, but it's also easy to customize with different types of steps. You can go with wood, like in the glass railing sample above, or even grated steps. Speaking of grated steps…
Truly Industrial Styles
Stairs aren't always about visuals. They're also important for functionality. If any future metal staircases for your business need grated steps, we've got you covered.
Completely metal staircases with safety railings and grated steps are perfect for any business that deals in dirty jobs or potential puddles. Because there are gaps, dirt and grime will fall through instead of piling up on a solid surface. More importantly, these steps are great for traction. If employees are likely to end up with wet shoes while working, grated steps will provide the non-slip support they need and prevent water pooling on the stairway.
Get Exactly What You Need
No matter what kind of business you run, Pro Weld will have something that suits you. Check out our gallery and see if any of our favorite staircases catch your eye. If we don't have what you need, we might just be able to change that. Give us a call and tell us what we're missing so that we can give you the metal staircase that your business needs.