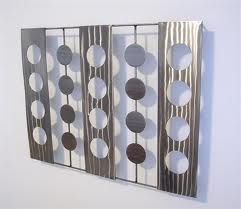 Did you know Pro Weld can do more than just railings? Our specialty is metal, in all of its wonderful forms. From railings to machinery, all the way to custom steelwork, we know our way around metal. Wondering what custom steelwork is? Technically, anything made custom from steel is custom steelwork. However, we want to shine a light on the possibilities in home and business decor.
Custom Steelwork Wall Art
If you run a business, or simply enjoy large art pieces in your home, custom steelwork wall art might be up your alley. Have you ever seen wall art made of steel before? It can look really incredible. Imagine large, sweeping, metal leaves, intermingled with berries that catch the light on their metal surfaces. Or, imagine a contemporary cityscape made of overlapping highrises and mountains in the background. All of this can be done with flat pieces of steel, hammered out into the right shapes and cut into pieces.
Hammered steel wall art is ideal for large spaces with lots of light flow. An office space is a good example. Large office spaces with ample lighting and extra tall wall spaces offer the perfect place to display a piece like this. The light will catch on all of the gentle waves in the metal. We think this is one of the best ways to appreciate the work that went into it.
Steel Sculptures
Looking for something more suited to be displayed in the center of a room? Steel sculptures are a beautiful and contemporary way to fill empty space. Steel sculptures can be small, or they can be massive. It all depends on how much space you need to fill. A small sculpture could sit happily on a corner table in a waiting room. A large one could fill a 3 story entry room with skylights and escalators. You could also display one of a larger size outdoors to draw attention to your business. Extra points if the sculpture depicts the topic of your work!
Custom Steel Vessels
As we mentioned, steel can be used for virtually anything. So, take a moment to consider custom steelwork in the form of custom steel vessels. This could be steel cups, steel beer steins, steel pitchers, or steel bowls. You can use steel to make practically anything. And we're up to the challenge!
Any Custom Steelwork in Toronto
Any steelwork you can imagine, we're probably game for. Call us today with your ideas and let's start a conversation about the possibilities. Pro Weld is always excited to take on something new and interesting. We look forward to hearing from you!