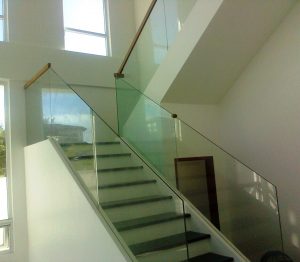 When it comes to glass railings, Toronto is waking up. For elegant, attractive, safe and secure railings, there isn't really any competition, and that's why our city's homeowners have begun to embrace them – improving the appearance, ambience and value of their properties in doing so. Installing glass railings doesn't have to be a complicated procedure. When done the right way, it can actually be surprisingly straightforward. In order to ensure a safe and problem-free installation, it's essential to take several factors into consideration before starting work.
When Installing Glass Railings, Toronto Residents Need to Consider Several Factors
The general principles of installing glass railings are pretty much the same the world over, but you'll need to pay special attention to local standards and regulations, particularly those laid out in the Ontario Building Code. By hiring a local contractor to carry out your project, you can be confident that their work will be carried out in accordance with these rules and guidelines. Even before that, though, you need to bear several considerations in mind:
Types of Glass – Safety glass must be used in glass railings. This is usually tougher glass which, if broken, will be less hazardous. Toughened glass is around four times stronger than regular glass. Laminated glass has a plastic interlayer film which will not allow objects to penetrate the glass, much like a car windshield.
Types of Glass Railings – Toronto has examples of different types of railing, including top balustrades, sole glass sheets without supports, and top glass railings supported by figurines. Each type has its own merit and you can ask your contractor for design ideas or feasibility.
Handling of Glass on Your Property – If you opt for sole glass sheets, it will probably be delivered on a different date from the installation. If you need to store it, be sure to lift it vertically, maintain the integrity of the packing and protect the edges in particular.
Safety When Handling Glass Railings on Your Property – If you need to handle the railings, be sure to wear protective gloves and have others help you. If you're not involved at this stage, you need to be sure that your contractor and any workers are adequately insured against any accidents, no matter how unlikely.
Safety When Installing Glass Railings on Your Property – This is probably the trickiest part and your contractors need to avoid making mistakes which could damage the railings. By having rubber grommets and rubber shoes, it reduces the chance of slippage and unnecessary damage.
Aftercare of Glass Railings – Most glass railings Toronto boasts, are protected by glass coatings. Once these are in place, glass has a very long lifespan and doesn't require any special maintenance apart from regular cleaning.
If you're considering having glass railings installed as part of your landscaping project, it is always a good idea to have a discussion with your contractor beforehand. Professionals can usually draw from a wealth of experience in order to help you decide what will work best.