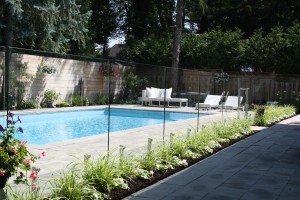 If you're in the market for some new railings in Toronto, you've come to the right place. Pro Weld is Toronto's #1 railing production company. And, we're not #1 without a reason. Our railings are quality, crafted in our shop especially for our clients. Today, we want to focus a bit on our high quality glass railing variations.
Variation Importance
Glass railings are great for a lot of settings, but what really makes it perfect is the glass railing variation you choose. There are a few different variations you can choose from, each with their own unique style. If your home or business has a specific design aesthetic you're aiming for, matching your railings is important. Ensuring the design you choose matches the rest of the property can be the difference between railings that enhance or detract from the overall property appearance. So, without further ado, here are some of the glass railing variations we have to offer at Pro Weld in Toronto.
Frameless
One of our most sleek and popular designs is our frameless glass railing. These railings are held up only by the metal mounts, leaving the railings themselves completely transparent. This allows for a fantastic view, unobstructed by framework.
Some of the perks of a frameless glass railing are:
There's hot metal railing frame in the summertime
No obstruction in your view
And, no risk of rust or weathering of metal
If you're looking to have Pro Weld's glass railings installed along the perimeter of your deck or balcony, frameless is a choice you won't regret.
Panel Connectors
Want most of the visibility that comes with a frameless glass railing with a little more support? Adding metal connectors between the vertical edges of each pane will add just that. These connectors will make each pane sturdier, relying, as well, on the strength of the adjoining panes, instead of just its own strength.
Steel Frame
Looking for something a little sturdier? If you want a glass railing that's better at handling traffic and those seeking some support, a steel frame is just the choice for you. Steel-framed glass railings put less pressure on the glass panes, making them less likely to break under a lot of force. All of the pressure is, instead, put on the metal frame.
Stainless steel is a fantastic look for more industrial interiors, exteriors with a lighter aesthetic, or for surrounding pools. The light color of the steel compliments the light, metallic nature of these styles.
Iron Frame
If you want something a bit more bold, try going for the iron frame. Our iron-framed glass railing variations have a black, iron frame. The black of the iron frame goes really well inside or outside of brick buildings. It also suits contemporary design. While frames leave a little less visibility, it adds so much more that it's hard to resist.
Hire Pro Weld
If you're in the toronto area and looking for quality railings, you know we're the best in the business. Put your money in a company you can trust to deliver high quality results. If you're not happy with the product you receive, you can be sure we won't make you settle for less than expected. Give us a call if you have questions and we'll be happy to help you out.